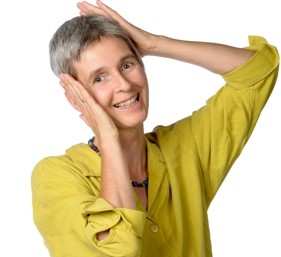 I discovered the Feldenkrais work in 1990, when I was invited to a Master Trainer giving a public workshop in Prague, shortly after the big changes in Europe. I felt the great power of this gentle work. In 2003, living in Jerusalem/Israel, I started my 800 hour training program. I was certified in 2007, and have been teaching and learning since then.
Moving to the US in 2006, I have been working as an occupational therapist and Feldenkrais teacher with the senior population; artists of all ages; professionals after stroke, brain injuries, repetitive stress injuries and chronic conditions; and with children with neurological challenges.
I have worked in the social and health sector as a caregiver, counselor and as health practitioner for more than 35 years with people of all ages and lifestyles. Their life challenges have taught me that health and wellness are not so much a thing to have, but a state of being where we are connected with ourselves - our thinking, feeling, sensing and moving.
Moshe Feldenkrais called these connections the aspects of our daily action. He also emphasized that working on them is a process and once we begin, things might change for the better.
Often in medical and rehabilitation work, clients get asked about their deficits and then therapy works on the problematic areas with the goal to repair them. Stroke survivors come to me and want their arm fixed or people with arthritis want their fingers straightened and for the pain to disappear. I wish I could promise such immediate results. Life would seem a lot easier - until the next stroke or the next arthritic flair up.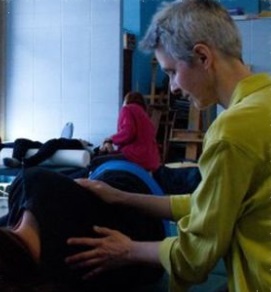 In my Feldenkrais work, I invite my clients to start from a place of ability rather than disability. We work with the movement they are capable of and from there they begin to move with awareness.   It is about taking small steps - listening and exploring simple movements rather than generalized exercises.
They find that not only have they improved the functional use of their affected body part, but feel more alive altogether. People who live with arthritis or other chronic challenges of their functional skills, report that moving mentally away from the dysfunctional body part - like an aching knee - and learning how to include other muscles, and how to engage and relax their body, helps them move more efficiently and feel much more energy and vitality.
People with chronic back pain tell me how discovering a better ergonomic use of their bodies has increased their overall efficiency. They also find that they can deal with the pain if it flares up again.
The most precious pearl that I have gained from the Feldenkrais method is watching the inner potential in each person evolve to a visible action, both with my hands in a hands-on individual lesson (called Functional Integration) and watching students finding their ease and beauty during a group lesson (called Awareness Through Movement). This work builds on the dignity of each individual and truly contributes to making the world a better place for everybody, regardless of age, income, or physical features.
I am both actively involved in the international Feldenkrais community and our regional guild chapter. It is so important to inspire and share our work with each other.
I pioneered the use of Feldenkrais when I started working in outpatient rehabilitation in Prince George's county in 2008. Since 2007 I have been teaching weekly Awareness Through Movement classes in DC and in Brentwood. I have been teaching workshops at Howard University in Washington. DC, Bethlehem University in Palestine, in Germany and since 2014 in the Yoga Space in Hyattsville.
In October 2015 I opened the Movement Clinic in College Park. I provide occupational therapy services and offer hands-on individual Feldenkrais lessons in a quiet and light filled environment (www.themovementclinic.org)
I am grateful to teach Feldenkrais with a weekly Awareness Through Movement class since November 2015 in the calming and beautiful Yoga Space and excited to also offer the Bones for Life® work this fall to the program.