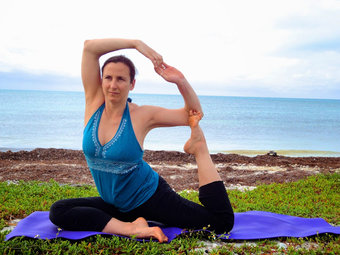 Julia Gaspar-Bates is a certified yoga instructor (RYT 200) registered by Yoga Alliance who has been practicing yoga for over 15 years. Her classes incorporate a deep awareness of the breath with detailed descriptions and careful attention to the physical alignment and benefits of each pose. Julia's classes provide a relaxed and welcoming environment for anyone looking to get in shape, renew and restore their energy, and create balance and harmony in their lives. A cross-cultural trainer in her non-yogic world, Julia is currently researching ways to cultivate self-awareness through the practice of yoga and the development of cultural intelligence.
"I've definitely been put off from yoga in the past by not getting such a thorough understanding of what I'm supposed to be doing and why. Maybe it was because I took a mixed-ability class, where the teacher didn't really have as much time to spend on us newbies since she was dealing with all those levels of ability. The classes weren't all bad, but they didn't engage me the way yours have. I'm really excited about yoga!"


DouglasRThompson@hotmail.com
Douglas Thompson, E-RYT
My journey as a yoga teacher began back in 1995, after I had taken my very first yoga class. It spoke to me like nothing had ever done before. I knew right then and there, I wanted to share the joy of yoga with as many people as I could.
I completed my teacher's training in 1996, at The Himalayan Institute in Honesdale Pennsylvania. The 7 fields of study that we needed to be proficient in were:
Asana (the yoga poses),

Pranayama (breathing techniques),

Teaching techniques,

Anatomy,

Philosophy,

Diet and Nutrition, and

Meditation.
All-in-all, it took a year to go through. Once all the classes were complete, the journaling had been submitted, and all the written tests had been passed, the last requirement was to stand alone, before the board (two or three teachers, including one that you had studied under.) They would ask you questions about any of the 7 fields, ask you to demonstrate a pose that they chose, and ask you to teach a pose to them, also of their choosing. It was a scary event, but I passed.
Forward to the present. Almost 20 years have gone by, and each time I take a class, I still feel the same joy I felt when I took my very first one. I still want to share the joy of yoga with as many people as I can. I have shared yoga with cancer patients, people with other challenges such as Parkinson's disease, Multiple Sclerosis, and Cerebral Palsy. I have shared yoga with prenatal moms, moms with infants, senior citizens, beginners, and seasoned yogis.
And now I would like to share yoga with you. Please come join me in one of my classes. I would love to have you.
"I've practiced with many teachers, and Douglas is one of the best I've ever studied with. He patiently urges us to improve, without forcing a competitive environment. His kindness as a person informs his teaching, and for that I am thankful to be able to study with him." (from a survey taken in February 2008)
Beginners and Gentle Yoga
This is a combination of warm-ups, gentle postures, and pranayama (yogic breathing,) and is always followed by a guided deep relaxation. This class is designed for students of all ages, including seniors. This class is beneficial for people recovering from injury or illness and those experiencing chronic pain. It is also suitable for anyone who has never taken Yoga before and those who are simply looking for a kinder gentler Yoga!

Continuing Yoga
Designed for people that have taken Beginners Yoga, or who have recently taken Yoga. This class focuses on the foundation poses, and stresses correctness of posture, and endurance. Also included are several breathing practices. Each class ends with a guided deep relaxation.

Senior Yoga

This class is done both seated in a chair, and standing, using the chair for support as needed. We will use modified yoga poses to improve balance, strength and flexibility. We will learn some breathing practices to increase lung capacity, and to reduce stress.
After lots of anticipation, our little girl is here! It was a very fast, intense birth. The low moans & pelvic rocks we practiced in class were the best coping mechanisms for me. Thanks for all you do to bring healthy babies into the world naturally.

Kandra Strauss Riggs 2008

Prenatal Yoga Mixed Levels
is a wonderful tool that is especially suitable for the pregnant mother in preparing for birth. In this class you will use yoga to gently stretch and release some of the tension that can build up in muscles and joints. Your body will be toned and strengthened. As you move from trimester to trimester, some of the asanas will be modified to safely accommodate your changing body. Breathing techniques that can aid in labor and birth will be taught. At the end of each yoga session you will enjoy a "deep relaxation" which will further relax the body, as well as help you to release emotions.
Although prenatal yoga is appropriate for women new to yoga as well as experienced students, you must first check with your Obstetrician, or Midwife and make sure they are in agreement that your yoga class will be of benefit to you.
Adaptive Yoga for MS Mixed Levels
Although it is designed for students with MS, it can equally be useful for those dealing with neuropathy or other similar conditions. It includes modified yoga stretches to release muscular tension (thus relieving spasticity), breathing practices, and fun. It has been reported by others with MS that doing yoga can increase body awareness; improve flexibility and strength; allow for better coordination and balance; and give the ability to better handle stress. Each class ends with a deep relaxation. Participants must be ambulatory & be able to transfer from chair to floor.